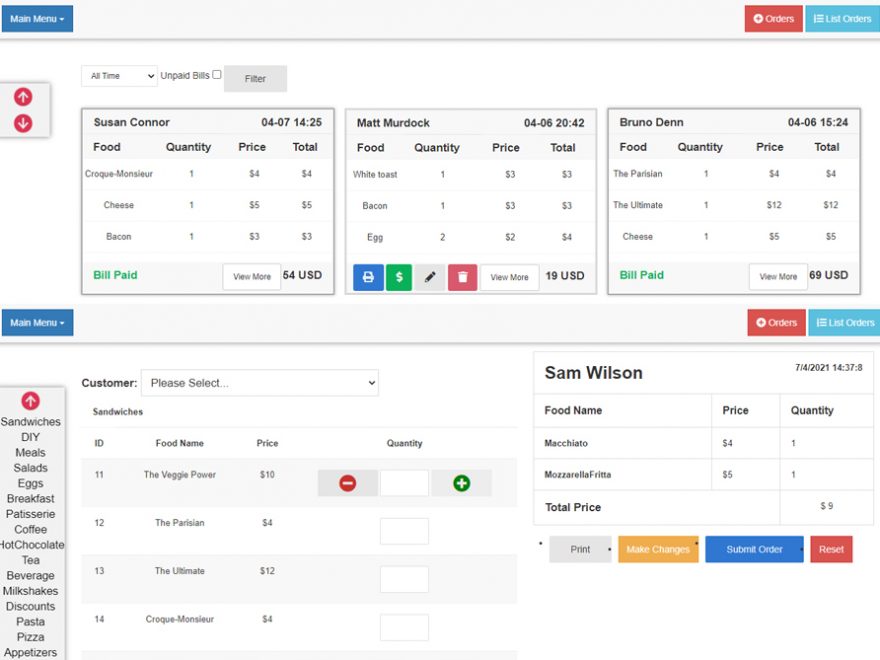 Version
Download

292

File Size

209 KB

File Count

1

Create Date

March 15, 2022

Last Updated

March 15, 2022
Online Food Ordering System project in PHP source code free download
Online Food Ordering System project in PHP source code free download: An organized project based on a PHP-based restaurant food ordering system. The PHP project below provides all of the necessary elements for first-year, second-year, and final-year IT students to employ in their college projects. It has crucial features that will allow all users to interact in the way that a system must communicate with customers in order to keep track of orders. This system, as well as the web application, has a clear concept that is similar to real-life scenarios and well-implemented. To download free online food ordering system project in PHP with source code files, please scroll down to the bottom of this post for the Download option.
About Food Ordering System Project
Heading on, this PHP project for a faultless meal ordering system focuses mostly on dealing with clients' food orders and records. Additionally, the system displays all available information, including meal specifications, categories, order lists with paid and unpaid parts, customers, reports, and more. Only an Admin Panel is included in the project for system management. In this web app's overview, the user can make an order list by picking food items from the menu and matching them to their appropriate customer's name. More specifically, the system allows users to enter their customers' information. Certain features enable the addition of food items and food categories.
Features and Others
The user may easily manage all records relating to customers, food, and categories from the main menu. Aside from that, an administrator can check daily and monthly sales reports. The system then provides a table of data containing each number of food products ordered, together with their respective quantities on various working days, as well as overall amounts. When it comes to the system's dashboard, he or she can filter the order list by current orders, yesterday's orders, this week's orders, or overall orders. With a single tag, it also distinguishes between paid and outstanding due bills. Similarly, there are many more minor aspects to pay attention to for a better user experience, such as food category tags in the sidebar, and so on.
Finally, for a better user experience when using this PHP food ordering system project, a clean and simple dashboard is offered with simple color combinations. Bootstrap, a free open-source CSS framework, is used for the UI elements. Presenting a new PHP MySQL food ordering system project that includes an admin panel with all of the necessary features for follow-up, as well as a knowledgeable resource for learning reasons.
Available Features:
Admin Panel
Create orders
List orders
Filter orders according to dates and others
Customer management system
Food management system
Manage food categories
Generate weekly reports
Sales reports
Print orders and bills
| | |
| --- | --- |
| Project Name: | Food Ordering System |
| Language/s Used: | PHP, JavaScript |
| PHP version (Recommended): | 5.6.3 |
| Database: | MySQL |
| Type: | Web Application |
| Developer: | Jons |
| Updates: | 0 |
Online Food Ordering System project in PHP source code free download
How to Run This Project:
Follow the steps below should be performed after you've started Apache and MySQL server in XAMPP.(windows)
The first step is to extract the file.
Secondly Make a copy of the main project folder.
Thirdly Paste the code into xampp/htdocs/
Process to Connect Database with system.
Fourthly Open a browser and type "http://localhost/phpmyadmin/" into the address bar.
After that go to the databases tab.
Sixthly Name your database "wmsci" and then go to the import tab.
then Select the "wmsci.sql" file from the "DATABASE" folder by clicking on browse file.
After that Press the enter key.
After you Successfully Connect Database in House Rental System Project.
finally Go to "http://localhost/floder name/" in your browser.
LOGIN DETAILS ARE PROVIDED IN "Readme.txt" FILE INSIDE THE PROJECT FOLDER
That's it for the whole setup of the PHP Food Ordering System Project. Because the project does not work with the most recent PHP version, PHP Version 5.6.3 is required for this PHP project. As a result, customers running the most recent PHP version (more than 5.6.3) may encounter a variety of issues. As a result, you'll need to downgrade your PHP version for the time being (only if you're using the most recent version). Free Food Ordering System Project in PHP MySQL with Source Code is available to download. As a result, this restaurant food ordering system is a rapid automated PHP project for all beginning and intermediate PHP developers who want to expand their understanding of PHP web applications. Finally, the entire PHP project with open source code is an absolute project and a valuable way for users to understand and explore more about it.
How to Download Online Food Ordering System project in PHP source code:
How to Download Online Food Ordering System project in PHP source code: on your computer. At First Click Download Button below Captcha Will arrive in front of you. You have to solve That Captcha. After that You solve the captcha Download will automatically Start below. If you Fail Captcha YOU have to try it again. finally you get project on your computer, run It ,if you have any problem then contact us.