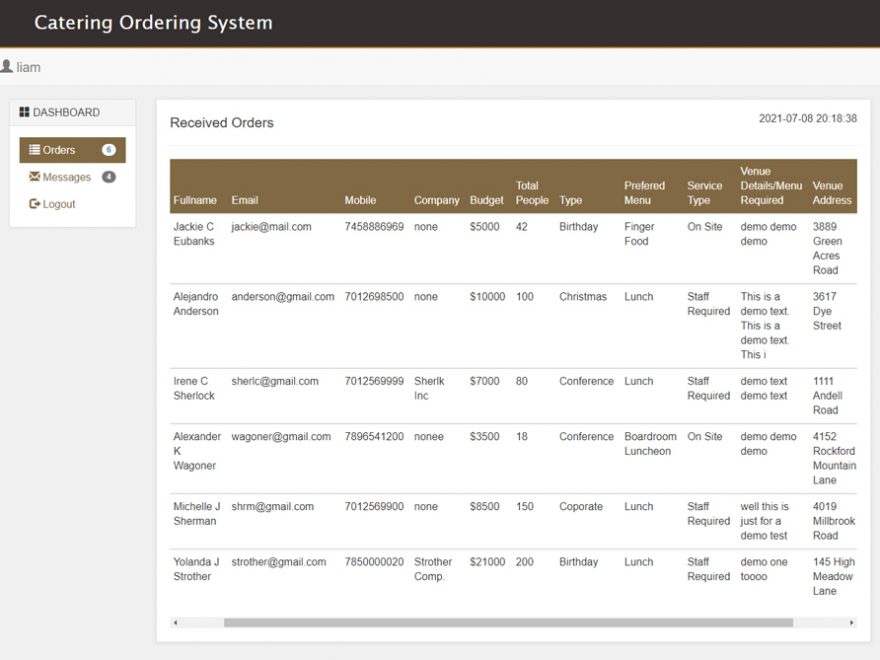 Version
Download

53

File Size

456 KB

File Count

1

Create Date

March 14, 2022

Last Updated

March 14, 2022
Online Catering Ordering System in PHP with Source Code for Free
A basic PHP- based project based on the Catering Reservation System. The following PHP project covers the simplest but most crucial aspects that first-year IT students can use for their college projects. It offers a variety of useful features that will enable all users to place catering orders. This system, as well as the web application, has a clear concept that is similar to real-life scenarios and well-implemented. Please scroll down to the bottom of this post for the Download button to get a free online catering ordering system project in PHP MySQL with source code files.
About Online Catering Ordering System PHP Project
Moving on, this PHP project for a simple catering management system focuses solely on reservations. In addition, the system shows all of a customer's available orders. Additionally, the technology allows users to send personal requests. In this tiny project, there is only a user panel. In this web application's overview, a user can make catering reservations. The customer must supply a name, email address, menu type, budget, and venue, among other details. Following the setup of these pieces of information, the customer can use the contact form to send a personal request. After all, a system can log in and look at all of the order requests. This section contains all of the details on a specific event.
Available Features:
User Panel
Place an order
Send private requests
View all catering orders
Manage orders
View contact submissions
| | |
| --- | --- |
| Project Name: | Online Catering Ordering System |
| Language/s Used: | PHP |
| PHP version (Recommended): | 5.6 or Newer |
| Database: | MySQL |
| Type: | Website, Web Application |
| Developer: | Anthony Joboy |
| Updates: | 0 |
Online Catering Ordering System PHP Project Overview
Instructions: How to Run?
Unzip the project file and move it to your XAMPP directory after you've finished downloading it.
There's a folder called "htdocs" in there.
Paste the project folder into the "htdocs" folder (not the .zip one, but the extracted one).
Open a browser of your choice; we recommend Google Chrome or Mozilla Firefox.
Then navigate to "http://localhost/phpmyadmin" in your browser.
Make a database using the name given in the "01 LOGIN DETAILS & PROJECT INFO.txt" file.
Select the database file (.sql) from the "DATABASE FILE" folder from the "Import" menu.
Go to "http://localhost/[PROJECT FOLDER NAME]/" after you've completed all of these steps.
All of the login information is contained within the project folder; check it out and enter it to utilize it.
PHP Installation:
And there you have it: a complete PHP MySQL setup for the Simple Catering Ordering System project. PHP Version 5.6 or Newer is required for this PHP project because the project may not work properly with older PHP versions. As a result, users running the earliest PHP version (less than 5.6) may experience a variety of issues. As a result, you'll need to upgrade your PHP version right now (if you're still using the previous version). Download the source code for a free online catering ordering system in PHP and MySQL. As a result, this catering ordering system PHP project is a fundamental project for all novice levels, providing a broad understanding of PHP web applications. In conclusion, this whole PHP project with free source code is an absolute project and a meaningful way for the users to learn and explore more about it.
CLICK HERE FOR PROJECT REPORTS AND TUTORIALS
for Our YouTube Videos Click here. | To download  more Project Click Here .For Latest Information| Our Twitter account | Our Facebook page.